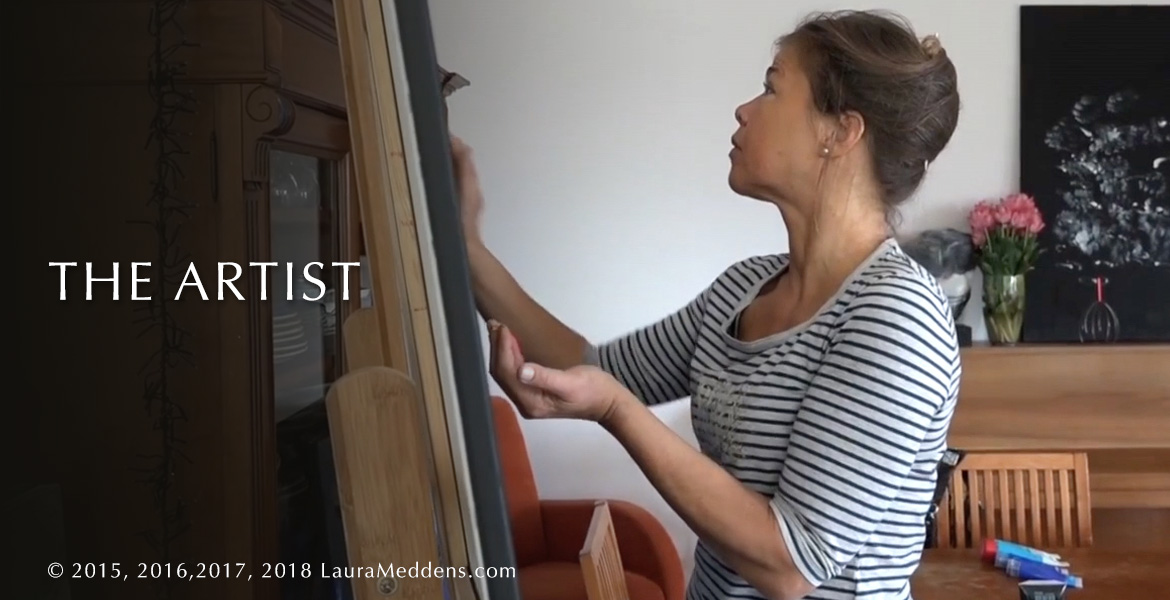 Laura Meddens
ABOUT THE ARTIST | OVER DE KUNSTENAAR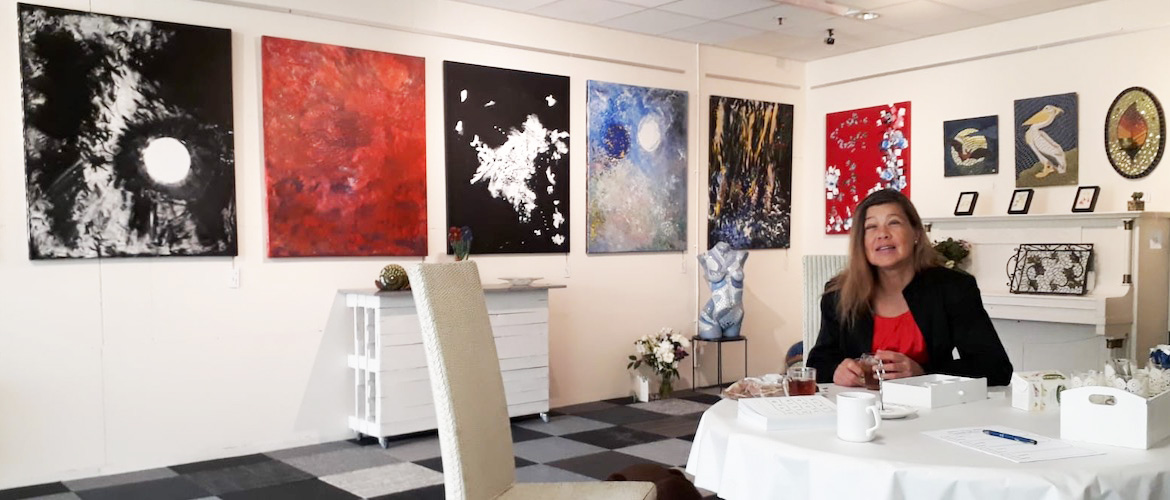 To behold the paintings of visual artist Laura Meddens is to embark on a journey of discovery.
She sees remarkable visualizations in her mind's eye, and her works showcase her efforts to capture them in a fleeting moment in time, because they are always moving . . . evolving.
Her life, from its beginning in the Dutch West Indies, and time living in the U.K and the Netherlands has provided a rich collection of visual memories and experiences that help to inspire her creative projects.
Laura achieves richly layered textures in a way that the label 'contemporary abstract' becomes a contradiction in terms because she paints with the most primitive – yet instinctual – tools at hand: her fingers.
This results in almost sculpted layers of vibrant colours, or simple black and white, whose depths and textures invite the observer to linger, making more and more discoveries of visual treasures seemingly hidden only for the patient eye of the beholder.
Because the moving imagery in her mind's eye does not 'hold a pose', Laura has to work quickly to capture the image on canvas before it disappears. This can be at any hour of the day or night, standing at an easel or kneeling on the floor.
Laura's techniques for blending different colours are fascinating in the way some of the swoops and swooshes of her fingers take on a three-dimensional tonality in her paintings.
Already her works have been attracting attention in the international art world. Laura was invited to display her work in the 2016 Open Ateliers Oost in Amsterdam and was one of 10 artists chosen out of 90 to exhibit in the SBK Gallery.
Laura's first major solo exhibition debuted in November, 2017 at the historic Amstelkerk in Amsterdam, and ran through to January of 2018.
Future exhibitions are in the planning stages. Some of Laura's works are currently on display (pictured above) at Galerie The Window.
If you'd like more information or wish to purchase one of Laura's works, please email info@LauraMeddens.com or call +31 61 46 96 853.
Het kijken naar de schilderijen van beeldend kunstenaar Laura Meddens is als het begin van een ontdekkingsreis.
Laura ziet opmerkelijke visualisaties in haar verbeelding en haar werken tonen haar inspanningen om ze op een vluchtig moment vast te leggen, omdat ze altijd in beweging zijn . . . zich voortdurend ontvouwen.
Haar leven, begonnen op de Nederlandse Antillen, en voortgezet in Engeland en daarna in Nederland, heeft haar voorzien van een rijke schat aan visuele herinneringen en ervaringen, die haar blijven inspireren bij haar creatieve projecten.
Laura bereikt rijkelijk gelaagde texturen op zo'n manier dat het label 'hedendaags abstract' een contradictio in terminis wordt, omdat ze met het meest primitieve, maar ook intuïtieve gereedschap voorhanden schildert: haar vingers. Dit resulteert in welhaast gebeeldhouwde lagen van levendige kleuren of simpelweg zwart en wit. De diepte en textuur hiervan nodigen de toeschouwer uit om te blijven hangen en steeds meer visuele schatten te ontdekken die alleen voor het geduldige oog van de toeschouwer verborgen lijken te liggen.
Omdat de bewegende beelden in haar verbeelding geen 'vaste houding aannemen', moet Laura snel werken om het beeld op doek vast te leggen voordat het verdwijnt. Dit kan op elk moment van de dag of nacht zijn, als ze bij een ezel staat of op de grond knielt. Laura's techniek voor het mengen van verschillende kleuren is fascinerend. Ze veegt en vlindert met haar vingers en geeft zo een driedimensionale kleurschakering aan haar schilderijen.
Inmiddels is haar werk opgemerkt in de internationale kunstwereld. Laura heeft – op uitnodiging – werk ten toon gesteld op de Open Ateliers Oost in Amsterdam (2016), en was daarbij één van de 10 uitverkorenen uit 90
deelnemers om te exposeren in de SBK-galerie.
Laura's eerste grote solo-tentoonstelling werd in de historische Amstelkerk te Amsterdam gehouden, van november 2017 tot januari 2018. Toekomstige exposities zijn in de maak. Op het ogenblik is een selectie uit haar werk (zie boven) te zien bij Galerie The Window in Zuidland.
Als u meer inlichtingen wenst, of belangstelling heeft voor de aanschaf van een kunstwerk van Laura, a.u.b. emailen info@LauraMeddens.com of bellen  +31 61 46 96 853.
Laura Meddens
A MESSAGE FROM THE ARTIST
Although these works were captured in fleeting moments in my mind's eye, I invite you to linger over them to discover different shapes and textures that become apparent from different angles and in different light.
While I may have painted and named a work like Extreme Obligations in a vertical portrait format, a friend told me that if you view it in a horizontal landscape position, it could be called Major Tom, after the character in David Bowie's Space Oddity, because of the tiny helmeted figure of a spaceman that can be seen stranded on an asteroid in space.
Similar descriptions from a variety of people on my works lead me to invite you to view them from afar, up-close, and from different perspectives.
Some people see in the painting Metamorphosis the cross-legged figure of Siddhartha, the birth name of the founder of Buddhism, and the title character in the novel by Herman Hesse.
Others see in Transcendence the sad eye of a tribal chieftain wearing his colorful headdress as he covers his left eye with his hand, perhaps mourning the loss of more Amazon rainforest.
While I can't see the results of my work on these paintings, I can tell you what I saw in my mind's eye as these incredible visualizations unfolded.
But that will be for when I meet you at an exhibition or in a publication, or TV program.
In the meantime, please view them with an open mind and without any expectations, and see what interpretations unfold in your mind's eye.
I hope you enjoy them.
Laura Meddens
Laura Meddens
BERICHT VAN DE KUNSTENAAR
Hoewel deze werken op vluchtige momenten in mijn verbeelding werden vastgelegd, nodig ik je uit er langer bij stil te staan om de verschillende vormen en texturen te ontdekken die vanuit verschillende invalshoeken en in ander licht naar voren komen.
Een werk als Extreme Obligations heb ik in staand portretformaat geschilderd en de titel gegeven, maar een vriend vertelde mij dat als je het in de liggende positie van een landschap bekijkt, het ook wel Major Tom zou kunnen heten, naar het personage in Space Oddity van David Bowie, omdat het een kleine gehelmde figuur van een ruimtevaarder is die op een asteroïde in de ruimte is gestrand.
Ik nodig je uit om mijn werken van veraf, dichtbij en vanuit diverse invalshoeken te bekijken.
Sommigen zien in het schilderij Metamorphosis de kleermakerszit van Siddhartha, de geboortenaam van de grondlegger van het boeddhisme, en het titelpersonage in de roman van Herman Hesse.
Anderen zien in Transcendence het droevige oog van een stamhoofd dat zijn kleurrijke hoofdtooi draagt, wellicht treurend om het verlies van nog meer regenwoud in het Amazonegebied.
Hoewel ik de resultaten van mijn werk aan deze schilderijen niet kan zien, kan ik je wel vertellen wat ik in mijn gedachten zag toen deze ongelooflijke visualisaties zich ontvouwden. Maar dat bewaar ik voor als ik je op een tentoonstelling ontmoet of voor een andere publicatie.
Bekijk ze ondertussen met een open blik en zonder verwachtingen, en zie welke interpretaties zich in jouw verbeelding ontvouwen.
Ik hoop dat je ze leuk vindt.
Laura Meddens