A BLIND ARTIST PAINTED THIS! PLEASE DON'T TURN A BLIND EYE TO THE AMAZON PEOPLE!
Transcendent Inspiration
September, 2019
A few years ago, blind artist Laura Meddens finished a painting that was, as always,  inspired by the vivid visualizations she experiences in her 'mind's eye', felt intuitively from her heart and soul. She had just emerged from a relationship, and the process of moving on inspired the initial title "Transcendence". Click on it to enlarge it.
Increasingly, over time, people mentioned that it looked like she had captured an incredible image of an Amazon tribal chief dressed in a colorful headdress who was covering his left eye with his left hand because he couldn't bear to witness the destruction of the rainforest, yet he had to remain vigilant with his other eye.
Fast forward to August and September of 2019 as media headlines were filled with the news of thousands of fires burning in the Amazon.
#IshareAmazonSorrow
Set by farmers and developers, the fires  threaten "the lungs of the world". Laura was then  determined to use her painting to raise awareness and raise funds for AmazonWatch.org which has been working for years with indigenous communities throughout the rainforest.
Laura has authorized commemorative prints, posters, notebooks and other items derived from the painting to be sold here and on her  website at Pixels.com so that all net profits from anything you purchase go through Amazon Watch to the indigenous people of the rainforest.
We also hope that you will join in the hashtag campaign #IshareAmazonSorrow on social media with your own selfie raising your hand to cover your left eye and stand in solidarity with the people of the Amazon. You can frame it with the painting or plain templates below. Thank you for your support!
THIS IS WHY WE WANT YOU TO SHARE AMAZON SORROW
Honoring Amazon Tribal Chiefs and Leaders
As part of our #IshareAmazonSorrow campaign, we will be paying tribute to the tribal chiefs and leaders in the indigenous communities throughout the Amazon rainforest for their efforts to protect "the lungs of the Earth" and their people's way of life in the face of endangering enchroachement and development by farmers, loggers and developers.
One of those community leaders is Zezinho Yube Huni Kuin (José de Lima Kaxinawa) from the Huni Kuin people of Acre, Brazil. His biography from HeartAndMindFestival.org (where he's a featured speaker on Saturday, Sept.21 in Toronto, Canada) reveals he is as much a cultural ambassador of the indigenous people of the Amazon as a leader working to  unite the various tribes to make large changes in the Amazon region.
Zezinho is an international award-winning filmmaker and was Secretary of AMAAIAC (Association Movement of Indigenous Agroforesty Agents of Acre) from 2002 to 2008, and Advisor for Indigenous Affairs with the Government of the State of Acre from 2011 to 2019.
As a result of that position, Zezinho visited nearly all the Huni Kuin communities in Acre, a feat accomplished by few people. He comes from a long lineage of tradition in which the sacred rites of the Huni Kuin people have been handed down from one generation to the next.
We are honored that Zezinho has joined our online #IshareAmazonSorrow campaign by contributing his image for the first posts that will launch the campaign and invite you to download the social media templates further below to contribute your image to stand in solidarity with Zezinho and the people of the Amazon.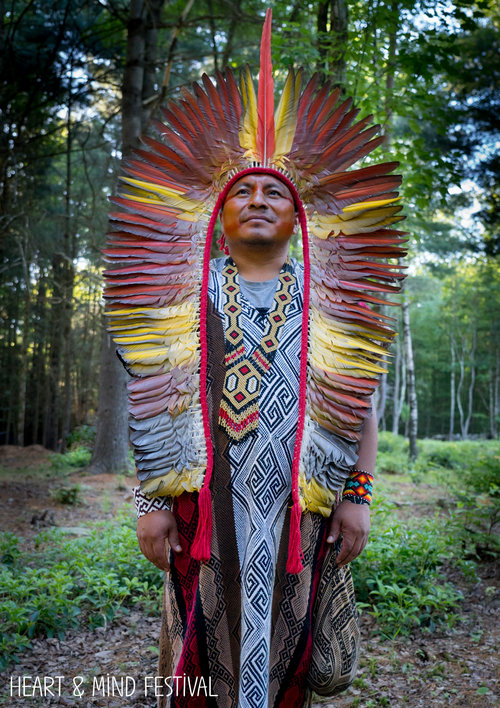 DOWNLOAD A FACEBOOK / INSTAGRAM SELFIE TEMPLATE 
CLICK TO ENLARGE AND DOWNLOAD A TWITTER SELFIE TEMPLATE 
CLICK BELOW TO BUY A COMMEMORATIVE POSTER OR OTHER ITEMS TO SUPPORT AMAZONWATCH.ORG