Limited Edition Art Giclée Prints
We are preparing some upcoming opportunities to purchase limited-edition, museum-quality prints of selected works being reserved in Laura's personal collection.
We've placed a preview below of one of the first featured works – "TANGO" – that will be made available as a Limited Edition to both individual and Corporate collectors and Curators. It will also be the centerpiece of an exhibition slated for November at a magical place. More information on dates and pricing will be coming soon, so please visit us often for updates.
"TANGO" was scanned using the latest technology by Re-Art.com in the Netherlands, and you can read their explanation of the process further below.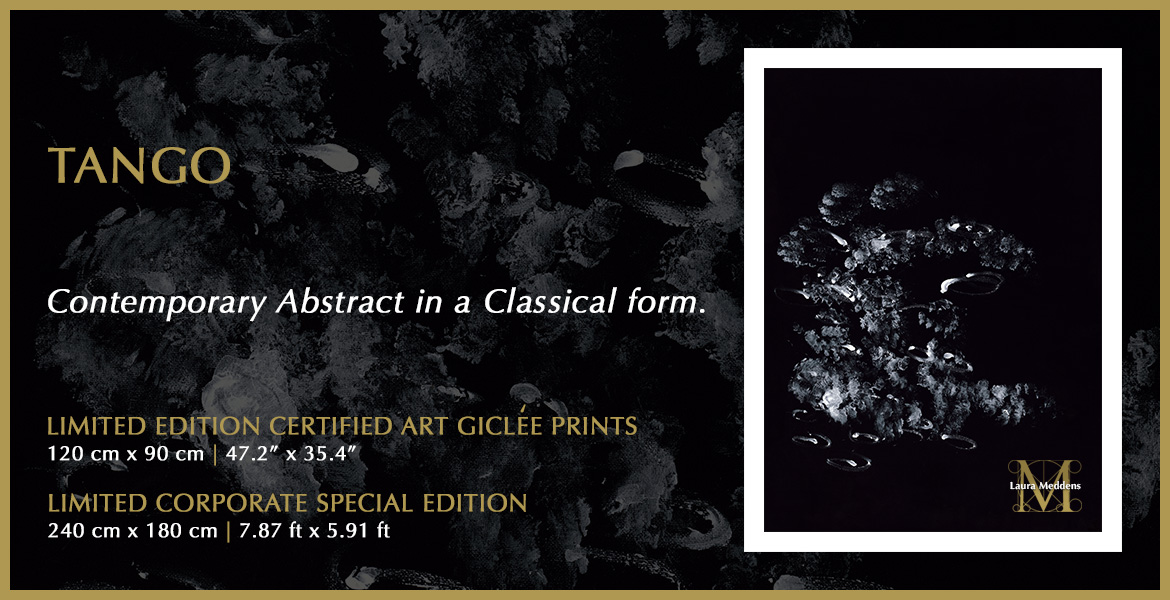 Giclée Prints
Giclée prints are high-quality reproductions of artworks. Re-Art delivers sustainable and professional reproductions in both large and small quantities.
Re-Art is known both nationally and internationally as an innovator in the field of fine art printing. We research and use the latest applications, which is combined with more than 25 years of experience in making traditional lithographs and art photographs.
We understand better than anyone that a reproduction must be of high quality, because it is essential for the image of an artist or museum. You are assured of this with giclée prints from Re-Art.
INCREASE SHELF LIFE WITH GICLEE PRINTS
With giclée prints you can rely on reproductions that are not inferior to the original and last a long time.
Sustainability can be as high as 300 years with our highly pigmented water-resistant Archival inks. Exposure in warm, humid or brightly lit rooms is no longer a problem.
Giclée is a contemporary printing medium that certainly meets the requirements set by artists, museums and art collectors.
Giclée Prints
Giclée prints zijn hoogwaardige reproducties van kunstwerken. Re-Art levert duurzame en professionele reproducties in zowel grote als kleine oplagen.
Zowel nationaal als internationaal staat Re-Art bekend als een innovator op het gebied van fine art printing. Wij onderzoeken en gebruiken namelijk de nieuwste toepassingen, wat gecombineerd wordt met ruim 25 jaar ervaring in het maken van traditionele litho's en kunstfoto's.
Wij begrijpen het als geen ander dat een reproductie van hoge kwaliteit moet zijn, omdat het essentieel is voor het imago van een kunstenaar of museum. Met giclée prints van Re-Art bent u hiervan verzekerd.
VERHOOG DE HOUDBAARHEID MET GICLEE PRINTS
Met giclée prints kunt u vertrouwen op reproducties die niet onder doen aan het origineel en daarbij lang meegaan.
De duurzaamheid kan met onze hoog-gepigmenteerde waterbestendige Archival inkten oplopen tot wel 300 jaar. Exposities in warme, vochtige of felverlichte ruimtes zijn hiermee niet langer een probleem.
Giclée is een eigentijd drukmedium die zeker voldoet aan de eisen die kunstenaars, musea en kunstverzamelaars stellen.