BLOG ARCHIVE
On this page, we invite you to browse through previous Blog posts that chronicle Laura's journey through life and also contain behind-the-scenes insights about her paintings and her musings on the world around her.
Art Contest on the theme of Sint-Catharijnekerk – Geuzenstaete / Brielle 2017
June 10, 2017
By Roel van Deursen via YouTube
Business Center Geuzenstaete organizes this summer, in collaboration with dRmEvents and the Geuzenstaete Art Group, an art contest on the subject of Sint-Catharijnekerk. The aim of the art contest is to collect money in a fun and interesting way for the benefit of the Saint Catharine church.
Participants could offer their work in five disciplines: photography, three-dimensional (spatial) work, painting, graphics / drawing and textiles. Each participant could submit one or more works.
On Saturday afternoon, June 10th, the first round took place in Business Center Geuzenstaete in Brielle. The work of the participants was assessed by the public and a professional jury.
During this preliminary round, fifty works (ten per discipline) were nominated for the contest. During the summer, these participants can exhibit their nominated work in shops, Catharijnekerk and Geuzenstaete.
Tourists can admire the works during the St. Catharine walk this summer.
On Saturday afternoon, September 9th, a public and professional jury determines which work made the most impression by discipline. The winner of each discipline will receive a beautiful prize from the mayor of Brielle, Dr. G.G.J. Rensen.
Kunstwedstrijd rond thema Sint-Catharijnekerk – Geuzenstaete / Brielle 2017
June 10, 2017
By Roel van Deursen via YouTube
Business Center Geuzenstaete organiseert deze zomer in samenwerking met dRmEvents en de Geuzenstaete Artgroep een kunstwedstrijd rond het onderwerp Sint-Catharijnekerk. Het doel van de kunstwedstrijd is op een leuke en interessante manier geld in te zamelen ten bate van de Sint-Catharijnekerk.
Deelnemers konden hun werk aanbieden in vijf disciplines: fotografie, driedimensionaal (ruimtelijk) werk, schilderen, grafiek/tekenen en textiel. Elke deelnemer kon één of meer werken inzenden.
Op zaterdagmiddag 10 juni vond de voorronde plaats in Business Center Geuzenstaete te Brielle. Het werk van de deelnemers werd beoordeeld door een publieks- en een vakjury.
Tijdens deze voorronde werden vijftig werken (tien per discipline) genomineerd voor de wedstrijd. Gedurende de zomer kunnen deze deelnemers hun genomineerde werk exposeren in winkels, de Catharijnekerk en Geuzenstaete.
Toeristen kunnen deze zomer de werken bewonderen tijdens de Sint-Catharijnewandeling.
Op zaterdagmiddag 9 september bepaalt een publieks- en vakjury welk werk er per discipline het meest indruk maakte. De winnaar van elke discipline ontvangt een mooie prijs uit handen van burgemeester van Brielle, drs G.G.J. Rensen.
The Winter Wonderland of Amsterdam
January 18, 2017
Frosty days in Amsterdam.
Out walking with Nugget and a friend. I felt such an amazing tranquility around me and I could feel the frosty air and I felt everything looked like a frosted crystal painting.
Beautiful! Hope everyone enjoyed it yesterday. Click on the photos to see them full size.
Laura Meddens on Insight with Mark Farrell
January 12, 2017
INSIGHT on PRN.FM: Eyesight and Brushes Not Needed – Painter Uses Fingers and Visualization 01/12/17
Laura Meddens is a supremely talented and creative artist who began painting less than three years ago after her remaining vision was lost, though you'd swear her work appears to be the result of decades of experimentation and practice.
Laura's story of resiliency and determination to succeed on several fronts is astounding as she recounts it to Mark Farrell.
Check out Laura Medden's work:
Laura's artwork: https://laurameddens.com/
Laura's site on inclusion and living an Abled life: http://abled.com/
Hear more episodes of Insight with Mark Farrell at: http://prn.fm/category/archives/insight/
Have Mark speak at your company or organization to increase morale, productivity, confidence and more. Mark also has riveting talks for kids k-12 and college on overcoming adversity, anti-bullying/anti-teasing, mental health, drugs/alcohol, celebrating differences, self-entitlement and more. All of Mark's talks are from his vast life experience. Reviews, videos, booking info and more at: http://www.markfarrellmotivation.com
Wonderful Art About Utrecht
November 9, 2016
For all my friends in the Netherlands, the Utrecht Archive is presenting a new exhibition of drawings about the city that opened on Sunday, November 6.
De getekende stad met een feestelijk programma! Kom jij ook?
Het Utrechts Archief / Hamburgerstraat 28 / Utrecht
Bekijk het programma op: 
http://www.hetutrechtsarchief.nl/…/14…/151-de-getekende-stad
Preview video by Lloyd Davies:
Beautiful Rainbows From Amsterdam
November 6, 2016
This is a photo taken in Ijburg  towards the end of what had been a dreary  rainy day. When I listen to the description of it, it makes me think and realize certain things in life. Something to think about. 
For any blind or visually-impaired viewers, the photo shows two parallel rainbows in the sky over Blijburg Beach in Ijburg, with the sun hitting the sand in the foreground and dark grey and black clouds in the distance. I hope you like it.
Laura Meddens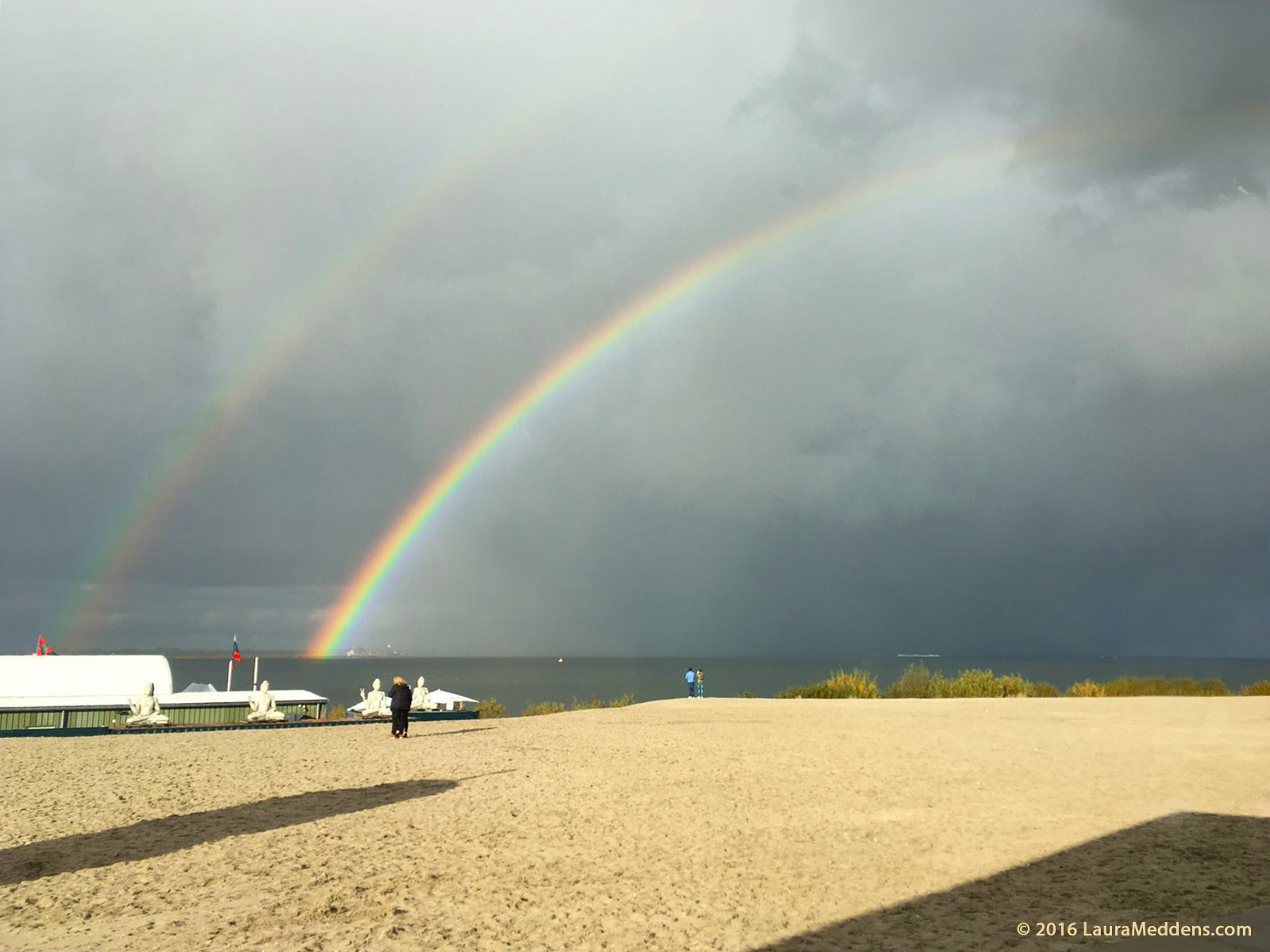 Laura Meddens Schildert op de Tast | Laura Meddens Paints By Touch
May 24, 2016 From oost-online.nl
Note: This is a video that was shot at the Open Ateliers Oost exhibition this past by Peter Mader of impact video.nl (with additional footage by Lloyd Davies) and published on lost-online by Stan Polman. Laura is grateful to them for their kind support.
The text with the video reads:
Kunstschilder Laura Meddens verloor enkele jaren geleden haar gezichtsvermogen. Maar haar zicht verloor ze niet. Met haar handen creëert ze bijzondere schilderijen. Tijdens Open Ateliers Oost 2016 in Loods 6 maakte Peter Mader een portret van de vrouw die schildert op de tast.
Dank aan Lloyd Davis voor aanvullend beeldmateriaal. Muziek Frank Moil.
In English: Painter Laura Meddens lost her eyesight a few years ago. But she did not lose her vision. With her hands, she creates extraordinary paintings. During the Open Studios East 2016 hangar 6, Peter Mader made a portrait of the woman who paints by touch.
Thanks to Lloyd Davies for additional footage. Music Frank Moil.
See more at Laura's Facebook page.
A SUCCESSFUL EXHIBITION
May 24, 2016
The Open Ateliers Oost was a big success!
For me it was a fantastic experience. My sincere thanks to Frans Salmans, the coordinator of the event, and his son and daughter, as well as all the crew at SBK for their kind help. 
And of course, a heartfelt thank you to all my dear friends who helped along the way and to everyone who appreciated and enjoyed my artwork, and took the time to express what they saw in them.
Special thanks to Dr. L.A. Klein Haneveld for sponsoring canvasses and framing and Drs. Jack Desmares for sponsoring another canvas.
It was a great honor for me to share the exhibition space with so many talented artists, and it has me very excited for the future.
Here's a photo from the exhibition, and thanks to my dear friend Helen Hoitsma for taking it and for being there with me.
PREPARING FOR THE EXHIBITION
May 20, 2016
I'm also busy preparing for the Open Ateliers Oost which is scheduled for this Saturday and Sunday in Amsterdam.
I'll have one painting in the main exhibition hall at
The Baggage Hall of Shed 6
Suriname Kade 30
1019 BV Amsterdam.
I've also been one of 10 people accepted to exhibit more works during the weekend at:
Kunstknooppunt (Art Gallery) SBK
KNSM-laan 307
1019 LE Amsterdam
You can find additional information about opening times and a map with directions on the News page. In the meantime, you can link to my page on their website.
Thanks to my dear friend Helen Pappa Hoitsma for going with me to check things out and taking the photo.
Hope to see you there!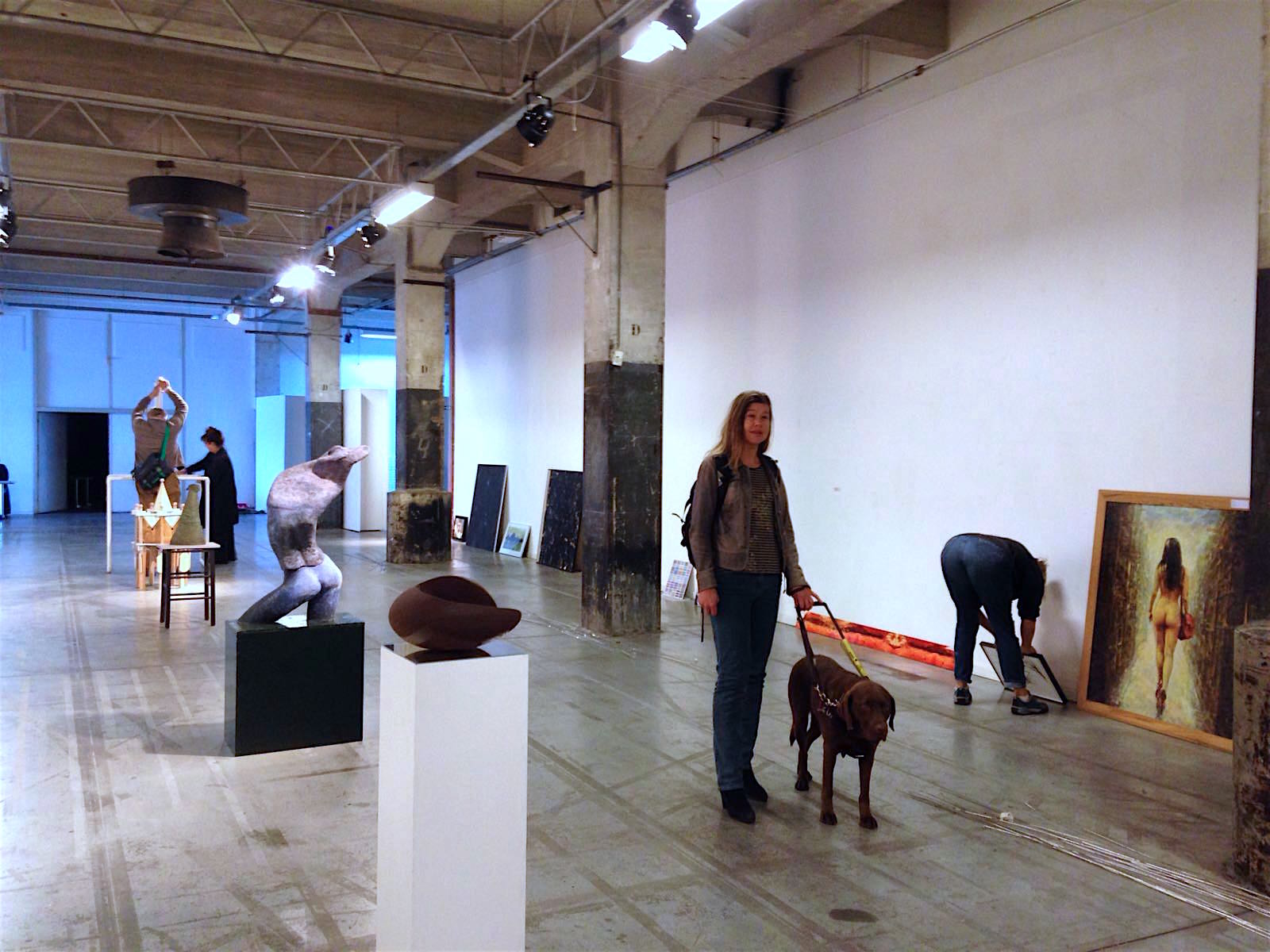 A NEW PAINTING
May 20, 2016
BOTANICAL SURGE
When Spring comes alive, we all have the urge to do, create, love and experience new things. Spring inspired this painting to evolve from a darker seascape to a vibrant rush of color and life.
It's one of three of my paintings that will be on display at the SBK Gallery in Amsterdam as part of the Open Ateliers Oost exhibition this weekend. You can find a map with directions by clicking on the NEWS button in the top menu bar.
Hope to see you there!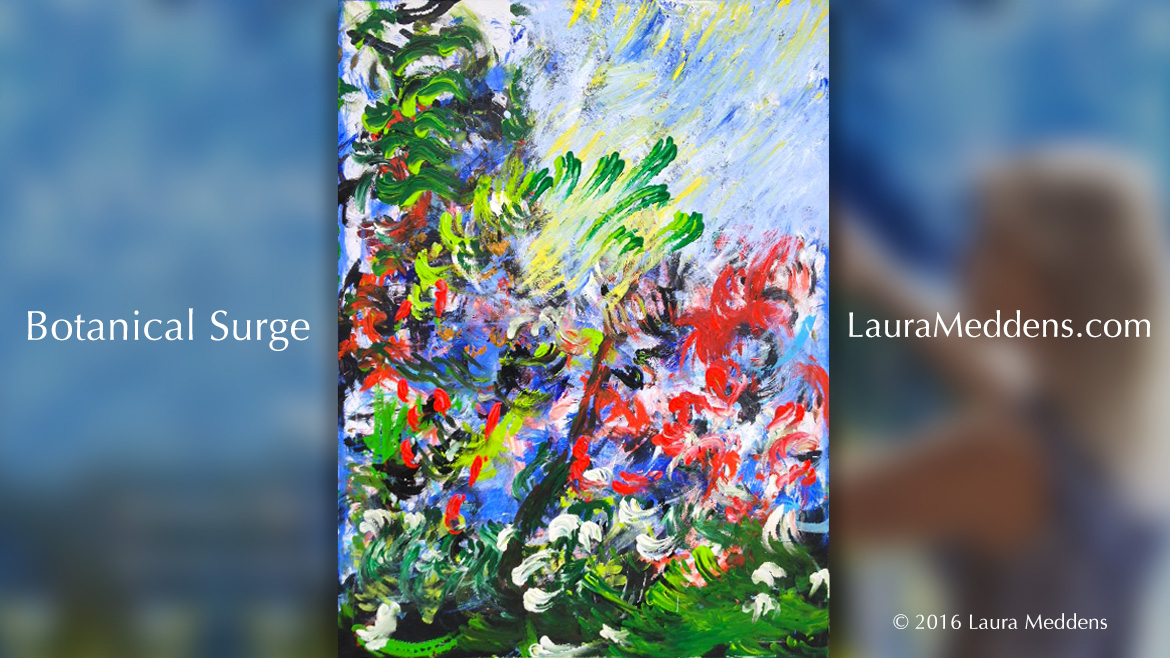 WELCOME TO A NEW ADVENTURE
April 7, 2016
I hope you like my new website as we launch an online gallery for the paintings I've been working on.
In the coming weeks, I'll be telling you more about the inspiration for, and the stories behind, the paintings. Since I'm not able to see anymore, I 'see' in a new way that has provided me with some spectacular visualizations.
I hope you'll visit often as we add more works to the online gallery. We wanted to have the site up in time for the interview I'm doing today at Radio Signal in Amsterdam. I hope you'll have a chance to listen in. You can find more information about it and links for live streaming on our News page.
I'm also busy preparing for the Open Ateliers Oost which is scheduled for May 21st and 22nd in Amsterdam. We'll tell you more information soon on the News page. In the meantime, you can link to my page on their website.
I hope you'll visit often as we add more works to the gallery and thank you for stopping by.