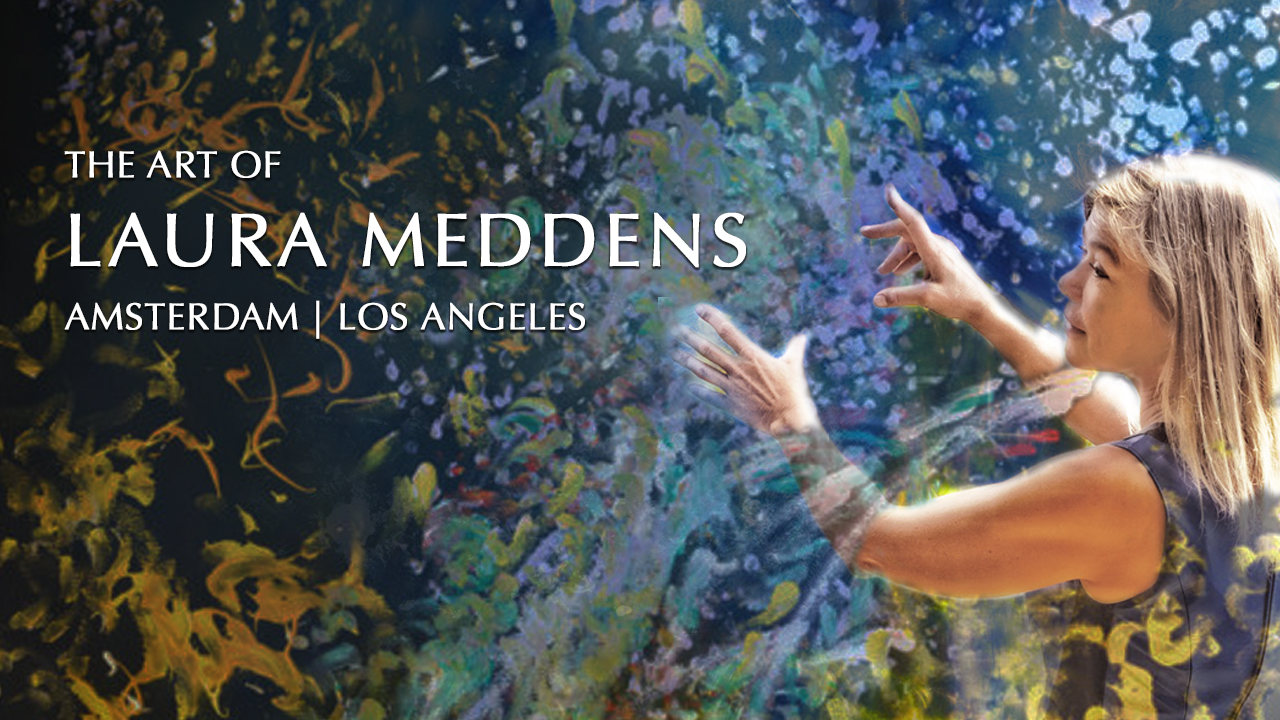 CURRENT EXHIBITION
Laura is pleased to announce that a selection of her paintings is now on display in the Vide Central Hall at the Spaarne Gasthuis in South Haarlem in the Netherlands through to the 31st of January, 2019.
From Spaarne Gasthuis:
Tijdelijke exposities
Het Spaarne Gasthuis biedt een podium aan kunstenaars om tijdelijk hun kunst te presenteren. Deze kunst is vaak heel uiteenlopend, zowel qua techniek als qua stijl. Daardoor hangt of staat er steeds iets anders in het ziekenhuis.
Temporary exhibitions
The Spaarne Gasthuis offers a platform for artists to temporarily present their art. This art is often very diverse, both in terms of technique and style. As a result, something else is always hanging in the hospital.
For more information on the exhibition or the paintings, please send us an email.
Directions
You can download a PDF of directions to Spaarne Gasthuis.
We hope you enjoy the exhibition.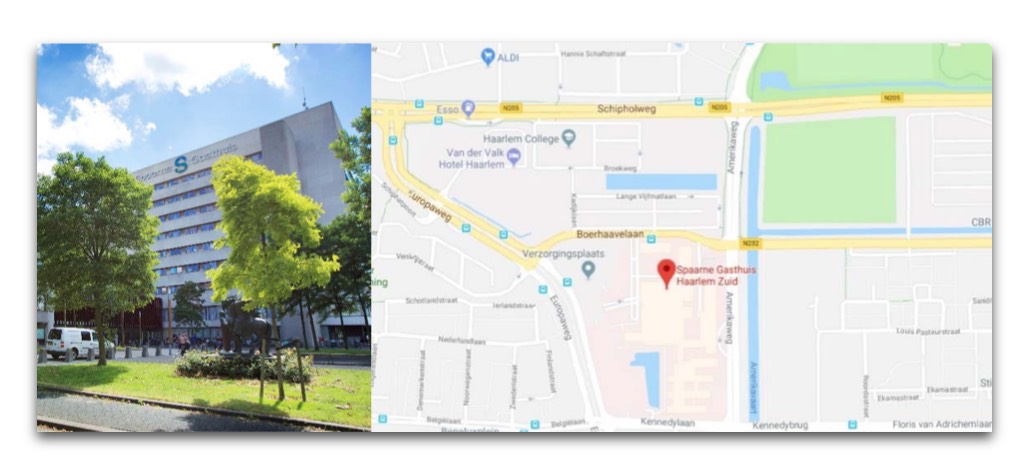 LAURA MEDDENS LIVE FROM NYC ON FACEBOOK LIVE
On OCTOBER 18, 2018  at 11 AM EDT | 8 AM PDT | 17:00 CET,  Laura Meddens was a guest on Insight Radio with Mark Farrell.
Among many things, Laura talked about what motivated her to begin painting after losing her sight.
Laura has appeared on Mark's program before via Skype, but this time she was live in the studio in the Big Apple before heading to the Elton John farewell concert at Madison Square Gardens in the evening.
The interview streamed live on Facebook at 11AM EDT | 17:00 CET on The Progressive Radio Network and we've embedded it below.
Mark is a great host, and lives with visual impairment. He is also a well-known vocal advocate for preventing addiction, bullying and suicide and is frequently booked to present Keynotes and workshops at schools and businesses, as well as emceeing events across the country. You can learn more about Mark at http://markfarrellmotivation.com.
And below, you can view the initial release of some new works by Laura in time for the radio interview.
One correction from the interview: When Mark called-up the painting "Transcendence", the operator actually put up "Major Tom", which is the vertical perspective of the work "Extreme Obligations. We've post them side by side below the video so you can see the correct painting.
We've also re-edited the video to save you the long wait before Laura's segment and also to do some reduction on the background electronic hum that was prevalent on the original broadcast, We hope you enjoy it.
Laura sends a big THANK YOU to Mark for having her on his program, and to her dear friends Jan and Rick for getting her there before they treated her to the Sir Elton John farewell concert in New York City!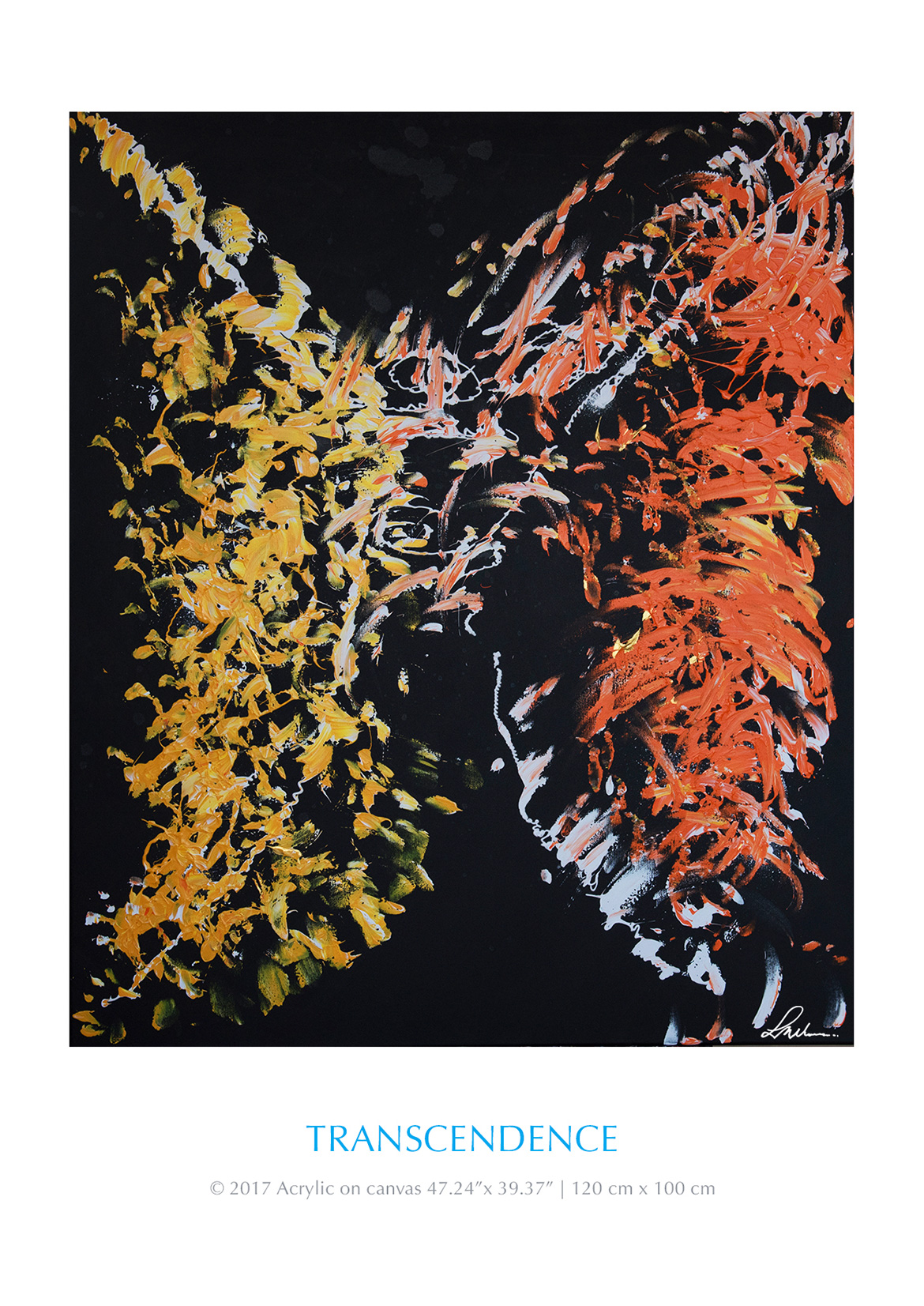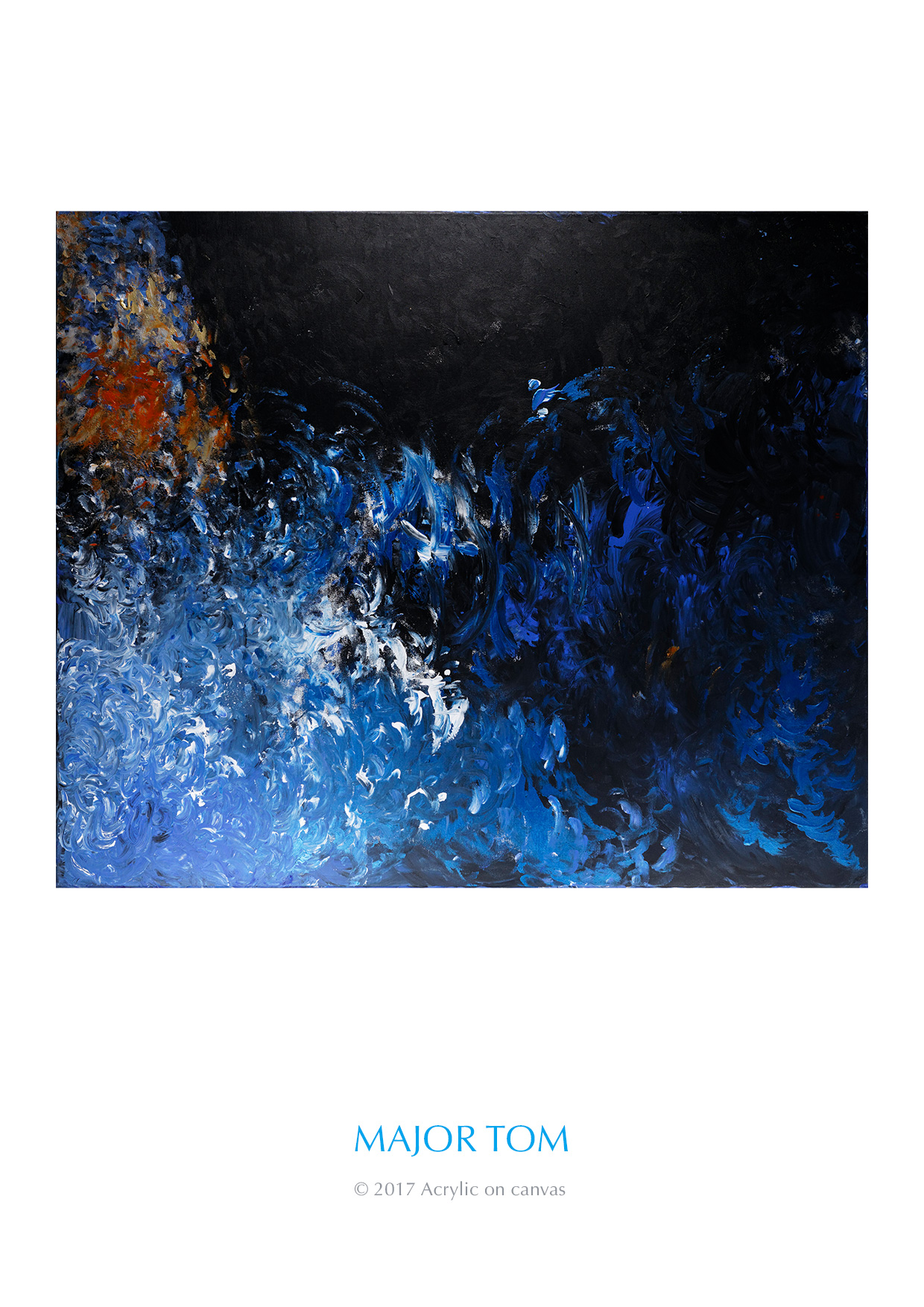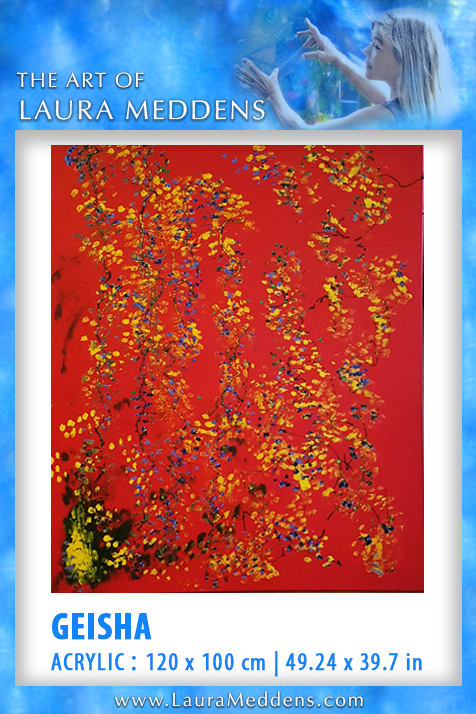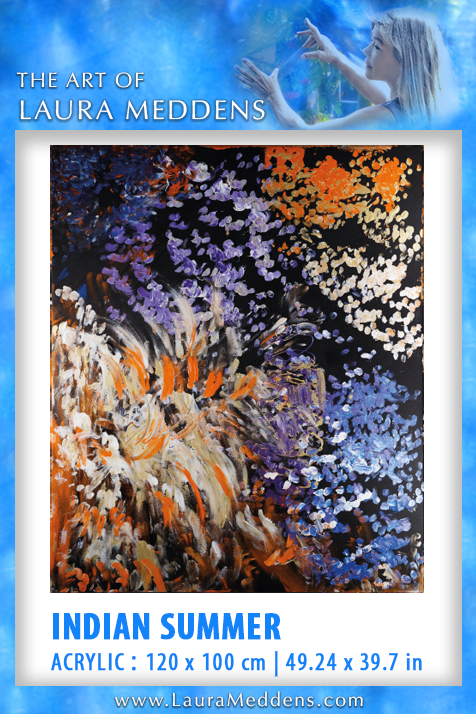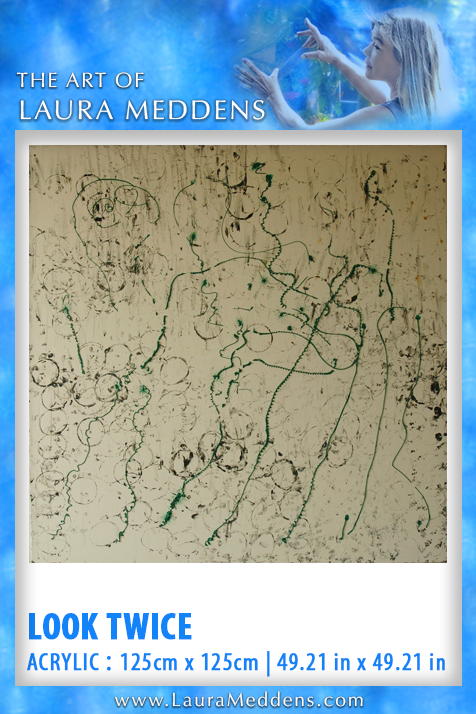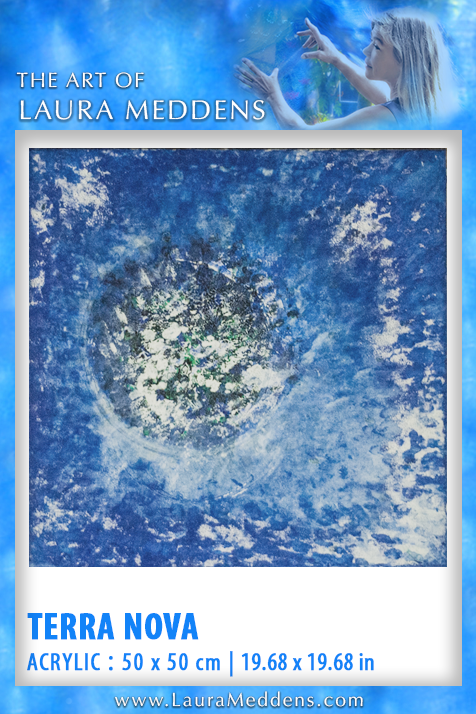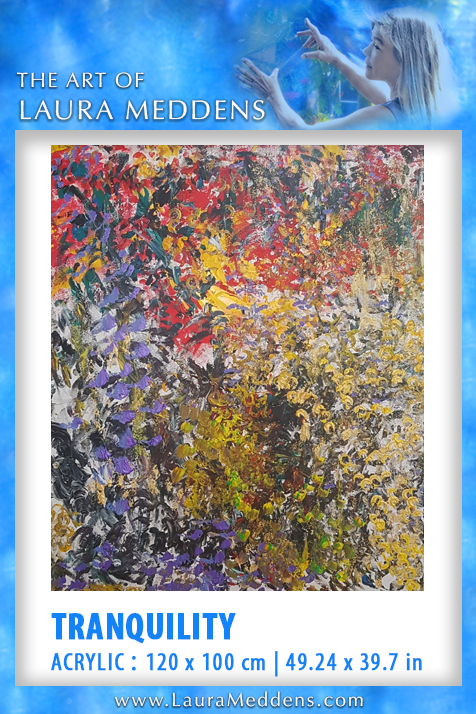 CHANGING PERSPECTIVES
A video exploration of what some observers see in the contemporary abstract paintings of Laura Meddens when viewed from changing perspectives. This is not meant to lead your own interpretations or conclusions, but merely to illustrate the remarkable hidden gems that emerge from Laura's works when viewed from varying points of focus, lighting and perspectives. Let us know at our Facebook page what discoveries you make!

Although these works were captured in fleeting moments in my mind's eye, I invite you to linger over them to discover different shapes and textures that become apparent from different angles and in different light.
While I may have painted and named a work like Extreme Obligations in a vertical portrait format, a friend told me that if you view it in a horizontal landscape position, it could be called Major Tom, after the character in David Bowie's Space Oddity, because of the tiny helmeted figure of a spaceman that can be seen stranded on an asteroid in space.
Similar descriptions from a variety of people on my works lead me to invite you to view them from afar, up-close and from different perspectives.
Some people see in the painting Metamorphosis the cross-legged figure of Siddhartha, the birth name of the founder of Buddhism, and the title character in the novel by Herman Hesse.
Hoewel deze werken op vluchtige momenten in mijn verbeelding werden vastgelegd, nodig ik je uit er langer bij stil te staan om de verschillende vormen en texturen te ontdekken die vanuit verschillende invalshoeken en in ander licht naar voren komen.
Een werk als Extreme Obligations heb ik in staand portretformaat geschilderd en de titel gegeven, maar een vriend vertelde mij dat als je het in de liggende positie van een landschap bekijkt, het ook wel Major Tom zou kunnen heten, naar het personage in Space Oddity van David Bowie, omdat het een kleine gehelmde figuur van een ruimtevaarder is die op een asteroïde in de ruimte is gestrand.
Ik nodig je uit om mijn werken van veraf, dichtbij en vanuit diverse invalshoeken te bekijken.
Sommigen zien in het schilderij Metamorphosis de kleermakerszit van Siddhartha, de geboortenaam van de grondlegger van het boeddhisme, en het titelpersonage in de roman van Herman Hesse.
Others see in Transcendence the sad eye of a tribal chieftain wearing his colorful headdress as he covers his left eye with his hand, perhaps mourning the loss of more Amazon rainforest.
While I can't see the results of my work on these paintings, I can tell you what I saw in my mind's eye as these incredible visualizations unfolded. But that will be for when I meet you at an exhibition or in a publication, or TV program.
In the meantime, please view them with an open mind and without any expectations, and see what interpretations unfold in your mind's eye.
I hope you enjoy them.
Laura
Anderen zien in Transcendence het droevige oog van een stamhoofd dat zijn kleurrijke hoofdtooi draagt, wellicht treurend om het verlies van nog meer regenwoud in het Amazonegebied.
Hoewel ik de resultaten van mijn werk aan deze schilderijen niet kan zien, kan ik je wel vertellen wat ik in mijn gedachten zag toen deze ongelooflijke visualisaties zich ontvouwden. Maar dat bewaar ik voor als ik je op een tentoonstelling ontmoet of voor een andere publicatie.
Bekijk ze ondertussen met een open blik en zonder verwachtingen, en zie welke interpretaties zich in jouw verbeelding ontvouwen.
Ik hoop dat je ze leuk vindt.
Laura

RECENT WORKS
Laura has been busy creating new paintings, a few of which were featured at her Solo Exhibition in the historic Amstelkerk in Amsterdam from November, 2017 through to January 3rd, 2018.
We've added some previews below and you can see more on The Art page. Click on the image to open it in a larger window. Enquire about a painting here.
Laura was born on the island of Curaçao, and grew-up in England and the Netherlands, so she speaks English, Dutch, German, Papiamentu and Spanish to varying degrees. The two introductory videos above are in English, and captioned Dutch. You can view them in a larger size, and see more videos on our Video page.