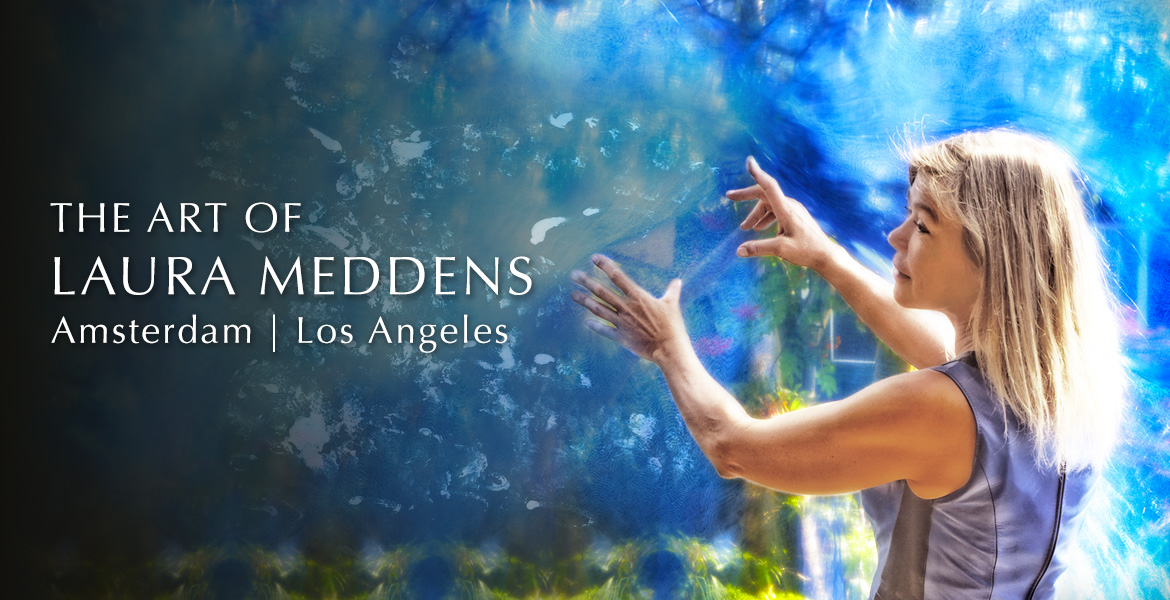 MEDDENS @ AMSTELKERK
YOUR INVITATION
Laura Meddens is full of inspiration from the visualizations she sees in her mind.
The images Laura sees for herself are dynamic and constantly developing. Instinctively, she catches these impressions and paints them directly with her fingers on a large canvas.
In the interim, she has painted over 40 canvasses and you are invited to come and see them at the historic Amstelkerk.
Laura will be in the church regularly throughout the exhibition to work on her new canvasses. If you'd like to meet her or have a personal tour of her works, she would be happy to do this. And that's partly because a large part of the joy Laura experiences with her art has to do with the responses and feedback from people who view her works. A phone call or email is enough to make an appointment.
The exhibition runs from 23 November, 2017 through 3 January, 2018. A portion of the proceeds from each painting sold will support StadHerstel's restoration of heritage buildings.
For more information: www.stadsherstel.nl and www.Laurameddens.com  
For appointments: info@LauraMeddens.com | +31 61 46 96 853
MEDDENS @ AMSTELKERK
JOUW UITNODIGING
Laura Meddens vol inspiratie de visualisaties die ze in haar gedachten heeft.
De beelden die Laura voor zich ziet, zijn dynamisch en ontwikkelen zich nog continu. Instinctief vangt ze impressies en schildert deze direct met haar vingers op een groot canvas.
Inmiddels heeft ze  meer dan 40 doeken geschilderd en jullie zijn van harte welkom om die te komen bekijken in het historische Amstelkerk.
Laura zal regelmatig in de kerk zijn om aan haar volgende doeken te werken. Mocht u haar willen treffen of een persoonlijke rondleiding van haar willen, dan doet zij dit graag. Mede omdat een groot gedeelte van de vreugde die zij beleeft aan haar kunst te maken heeft met de reacties en feedback van de mensen die haar werk zien. Een telefoontje of e-mail is genoeg voor een afspraak.
De expositie is te bezoeken vanaf 23 november 2017 tot 3 januari 2018. Een deel van de opbrengst van elk verkocht schilderij ondersteunt Stadshersteels restauratie van erfgoedgebouwen.
Voor nadere informatie : www.stadsherstel.nl en www.Laurameddens.com
Voor afspraken: info@LauraMeddens.com | +31 61 46 96 853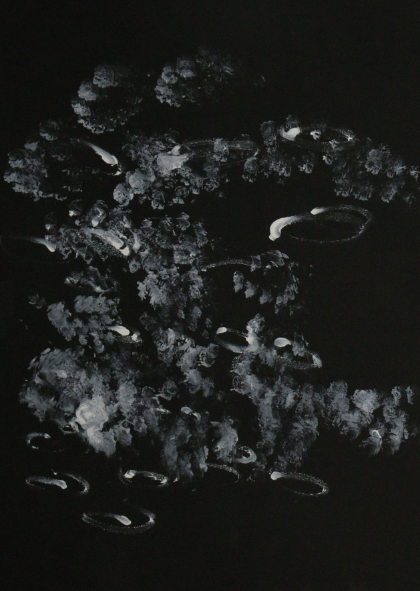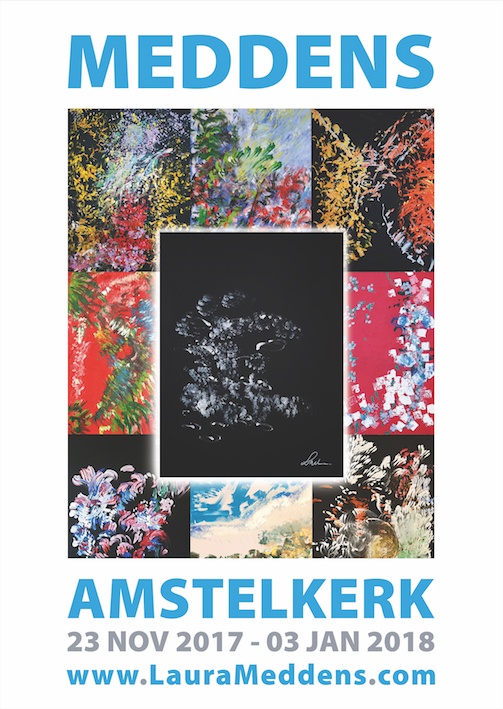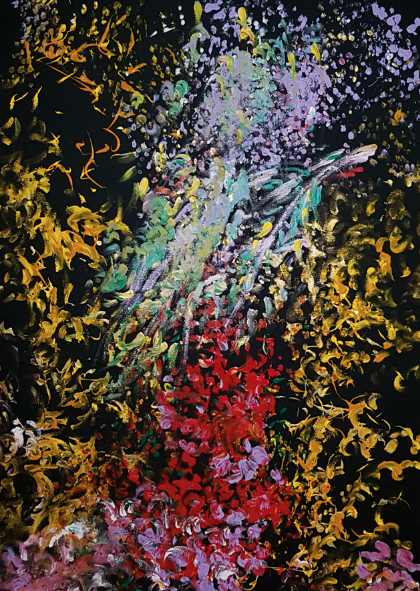 LAURA MEDDENS WINS 'SPECIAL MERIT' ART AWARDS
Laura Meddens has received an 'Award of Merit' from The Light Space & Time Online Art Gallery's Botanical Art Exhibition for her painting 'Botanical Surge', and an 'Award of Merit' from the Gallery's 'Landscapes' Art Exhibition in May.
Read more on our NEWS page.
NEW WORKS
Laura is busy working on new paintings for her solo exhibition coming up at the Amstelkerk in Amsterdam November 23rd to January 3rd.
On November 22nd, a private reception for family and friends will be held at the Church.
BLOG: Kunstwedstrijd rond thema Sint-Catharijnekerk | Geuzenstaete, Brielle