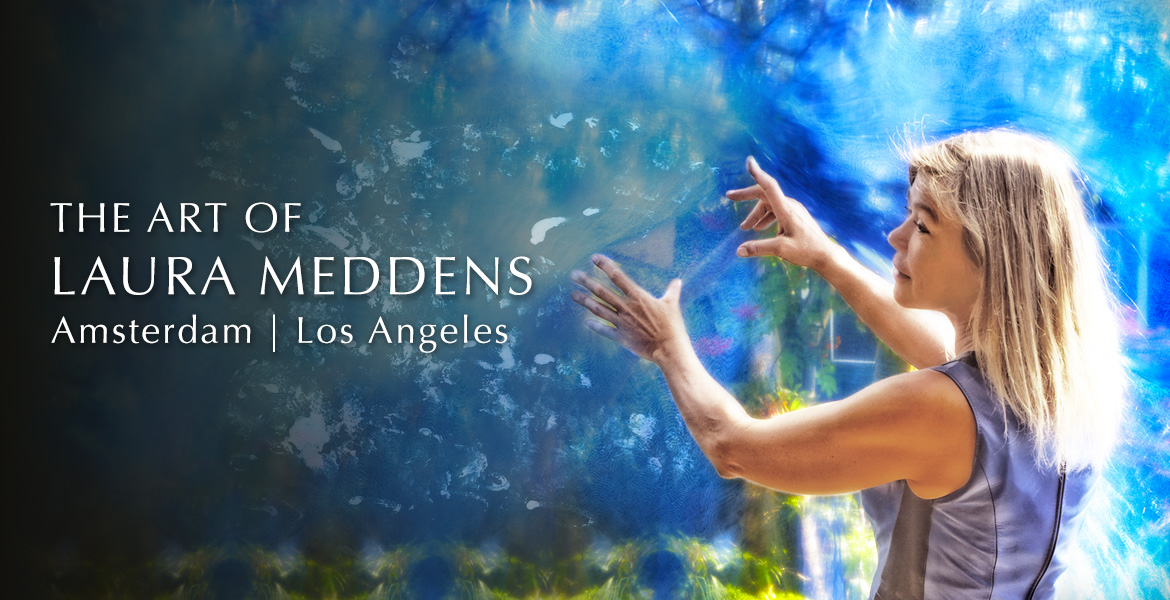 RECENT WORKS
Laura has been busy creating new paintings, a few of which were featured at her Solo Exhibition in the historic Amstelkerk in Amsterdam from November, 2017 through to January 3rd, 2018.
We've added some previews below and you can see more on The Art page. Click on the image to open it in a larger window. Enquire about a painting here.
Kunstroute Nisseward 2018 Deel 2
Kunstroute Nissewaard is een jaarlijks terugkerend evenement waarbij bezoekers het werk van locale kunstenaars en hun eventuele gasten kunnen bekijken. Zij stellen hun werk niet alleen ten toon, maar verkopen het ook. Ook wordt er met veel enthousiasme uitleg gegeven en soms gedemonstreerd. Dit kan zowel binnen als buiten plaatsvinden, afhankelijk van de locatie, het soort werk en het weer natuurlijk! Deze Kunstroute is tevens een gelegenheid bij uitstek om u te oriënteren op een eventueel te volgen cursus of workshop bij een van de deelnemers.
Art route Nisseward 2018 Part 2
Art route Nissewaard is an annual event where visitors can view the work of local artists and their guests. They not only show their work, but also sell it. Also with a lot of enthusiasm explanations are given and sometimes demonstrated. This can take place both indoors and outdoors, depending on the location, the type of work and the weather of course! This Art route is also an excellent opportunity to orientate you on a possible course or workshop to be attended by one of the participants.
LAURA MEDDENS ART @ STIJLDEPARTMENT
TODAY SUNDAY 15 APRIL 14:00 – 17:00
HAPPY TO BE IN STIJLDEPARTMENT IN IJBURG TODAY FROM 2 to 5 PM
Pampuslaan 23-25, 1087HP Amsterdam |Hope to see you there!
 _____________________________________________________
ART & FASHION EVENT
Met live-muziek, kunstexpositie & live-art, kindjes kunnen maskers maken, we hebben een kleine presentatie van onze geweldige zomercollectie. Freshkids modeshow met té schattige modelletjes, Een proeverijtje van de lunchkaart en nog veel meer leuks
❣ Kom je ook gezellig!
ART & FASHION EVENT
With live music, exhibition & Live-Art,children can make masks, we have a small presentation of our amazing summer collection. Freshkids fashion show with too cute models, A tasting of the lunch menu and lots more fun
❣ Come see for yourself!

LAURA MEDDENS ON 5 UUR LIVE  04 APRIL
TV viewers in the Netherlands were able to watch a feature about Laura and her paintings which which aired recently on Talpa TV's 5 Uur Live on RTL 4. We've embedded the video below.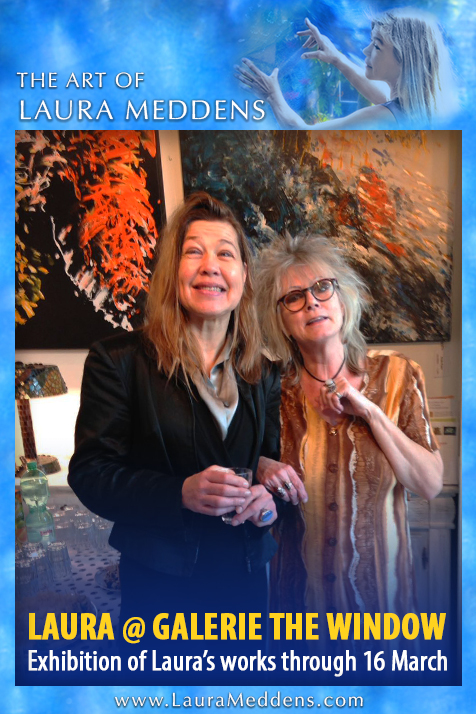 LAURA MEDDENS ART @ GALERIE THE WINDOW
UPDATE:
GALERIE THE WINDOW OPENS AT ITS NEW LOCATION
SATURDAY 14 APRIL IN ZUIDLAND @ 16:00
New Address: Mr. P.J. Oudweg 34, 3214 XN Zuidland in the middle of the  winkelcentrum S'lands Hof
 _____________________________________________________
In The Window MozaWan and Len van Gelder exhibit their mosaics and ceramics.
Regularly, there is an exhibition of guest exhibitors. Such an exhibition is festively opened with a cozy vernissage with a snack and drink and live music.
In addition to work by MozaWan and Len van Gelder, The Window also shows very varied work by various other artists. "
I'm grateful to Wanda, Len and Leo for the opportunity to be one of their guest exhibitors and invite everyone to stop by and see the many wonderful works they have on display.
A selection of my paintings will be on exhibit there starting on Saturday, the 14th of April. I hope you can stop by this weekend.
Galerie The Window is open every Thursday through Sunday from 12.00 to 17.00. You can also visit The Window by appointment. To do so, contact Leo Vermeulen (06-24207906).

MEDDENS @ AMSTELKERK
Laura wishes to thank everyone who visited her Solo Exhibition at the historic Amstelkerk in Amsterdam, with special thanks to Jan Vayne for his wonderful concert of works inspired by Laura's paintings, the staff at Stadsherstel.nl and the many friends who helped with the logistics.
Plans are in the works for a new Solo Exhibition at another historic church in Amsterdam that holds great significance in art history. More details soon.
In the meantime, explore Laura's latest works on The Art page. Click on the image to open it in a larger window. Enquire about a painting here.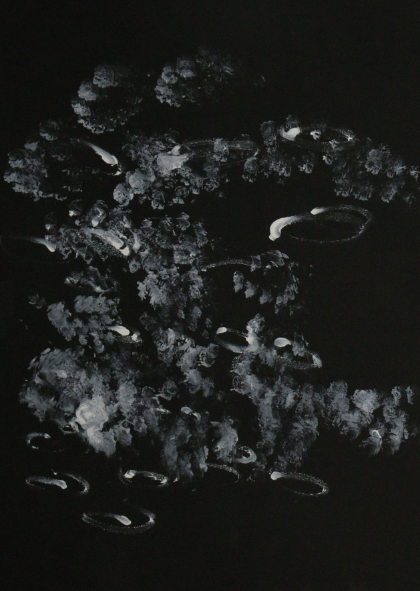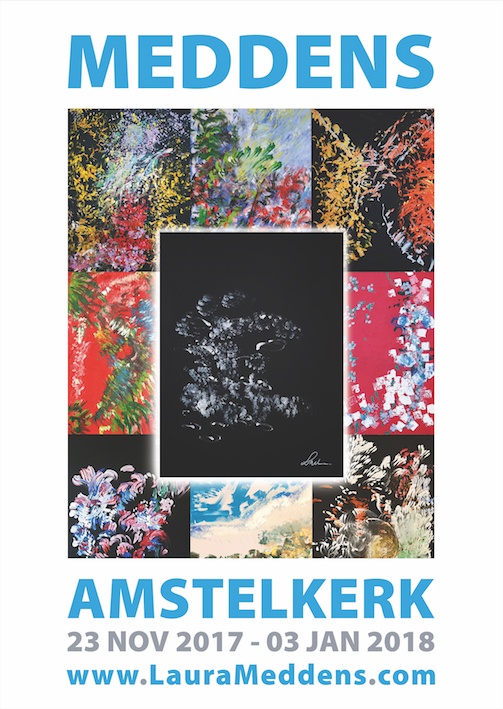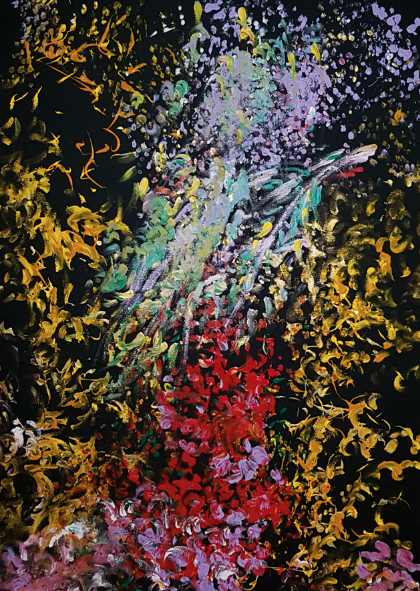 LAURA MEDDENS WINS 'SPECIAL MERIT' ART AWARDS
Laura Meddens has received an 'Award of Merit' from The Light Space & Time Online Art Gallery's Botanical Art Exhibition for her painting 'Botanical Surge', and an 'Award of Merit' from the Gallery's 'Landscapes' Art Exhibition in May.
Read more on our NEWS page.
BLOG: Kunstwedstrijd rond thema Sint-Catharijnekerk | Geuzenstaete, Brielle