A DEVASTATING LOSS
In the early afternoon of Monday, March 7, 2022, after failing to respond to repeated phone calls, an EMT crew and police discovered Laura Meddens had passed away in her home overnight. She was 55 years old.
Following a lengthy and thorough investigation, detectives and the medical examiner said Laura likely died of cardiac arrest in which the heart simply stops.
For her family and many friends, it was a sudden, shocking, and devastating loss . . . the kind that truly breaks your heart with incredibly profound sorrow. Laura's family wishes to thank all the First Responders, police and medical personnel for their professionalism and due diligence, as well as family members, friends and social media buddies for their gracious support, kind words and memories of Laura.
One of the most moving comments on Facebook was from Sabine Prinz who commented on the video opening the funeral service: "A beautiful tribute to Laura Meddens, she was always a role model for me and my blind son with her pictures. My heartfelt condolences to her family." A heartfelt thank you to Sabine and everyone who posted.
A FAREWELL TO LAURA
Tuesday, March 22, 2022
Family and friends gathered at the Nieuwe Ooster cemetery in Amsterdam to bid farewell to our beloved Laura.
The service was streamed live online for those who wished to attend from a distance. A recording has been made, and once photos are added that couldn't be shown at the service because of a technical issue, we will post an amended copy.
In the meantime, you can click on the photo above to go to the recording of the service. Be sure to click the speaker icon to turn the sound on and you can click on the arrows to expand the view to full screen.
Correspondence address:
Nieuwe Uilenburgerstraat 1A, 1011 LM Amsterdam, The Netherlands
DE NIEUWE OOSTER
Amsterdam
Following the service, members of the public were invited to join the procession to accompany the coffin to Laura's gravesite to pay their respects and say goodbye at De Nieuwe Ooster, Kruislaan 126, 1097 GA, Amsterdam.
Laura's family wishes to thank everyone for their gracious and comforting messages of condolence and memories of Laura at this very sorrowful time. They also thank everyone for the contributions of the beautiful fragrant and colorful flowers that adorn her final resting place, as seen in the photo below taken by her dear friend Prof. L.A. (Leo) Klein Haneveld). You can click on the map photos below to see a larger view (on desktop and laptop screens) of the directions to her gravesite 58-2-0300.
In the numerology Laura often loved to compute, the numbers add up to 9, a complete and divine eternity number often ascribed to artists, musicians and poets. She would like that.
REMEMBERING AND MISSING LAURA ON HER BIRTHDAY
We knew it was coming.
Like an aftershock following an earthquake, a reminder on what should have been her 56th birthday that Laura Meddens was taken from us far too soon.
In her name, we have launched a small fundraiser  benefitting an organization that changed her life, and you might say, saved her life after her sight was cruelly taken from her – The Seeing Eye Inc® .
Laura's two beloved guide dogs Wagner and Nugget along with their trainer Janice Abbott, helped Laura learn to see in a new way and progressively gain more freedom and independence in a world she could no longer see. We hope you might be moved to honor Laura's memory by making a donation, no matter the amount, to this life-changing organization in the fundraising post on Laura's Facebook page. Thank you.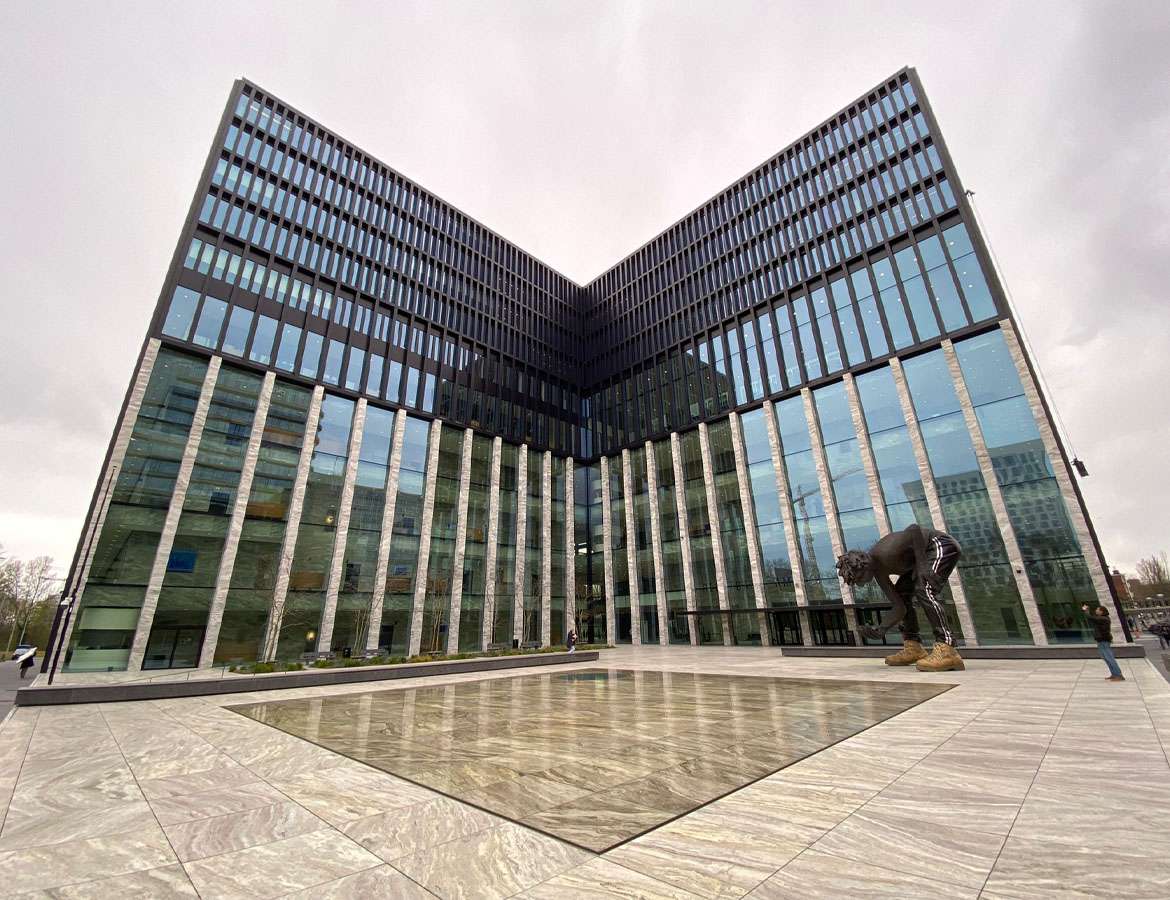 ASCENSION
Rechtbank Amsterdam
April through Wednesday June 15 | Parnassusweg 280, 1076 AV Amsterdam, Netherlands
Laura had been looking forward to her upcoming exhibition at the new Rechtbank (District Court) building in Amsterdam. Her son Michael, daughter Gabrielle and several close friends were determined to honor her memory by rallying together to forge ahead with the exhibition in this beautiful building.
Laura felt very honored to be offered the opportunity to display her paintings in such a prestigious setting, and we're also grateful to be able to fulfill that opportunity as a tribute to her thanks to the gracious invitation of Mr. T.M.A. (Tjaard) van Löben Sels, Kantonrechter and Chairman of the Art Committee of the Amsterdam District Court.
We'll be adding more photos and information about the exhibition and the building, as we make our way through the aftermath of the catastrophic loss of this multi-gifted artist. The photos in this tab have been taken by Laura's dear friend Helen Papa Hoitsma.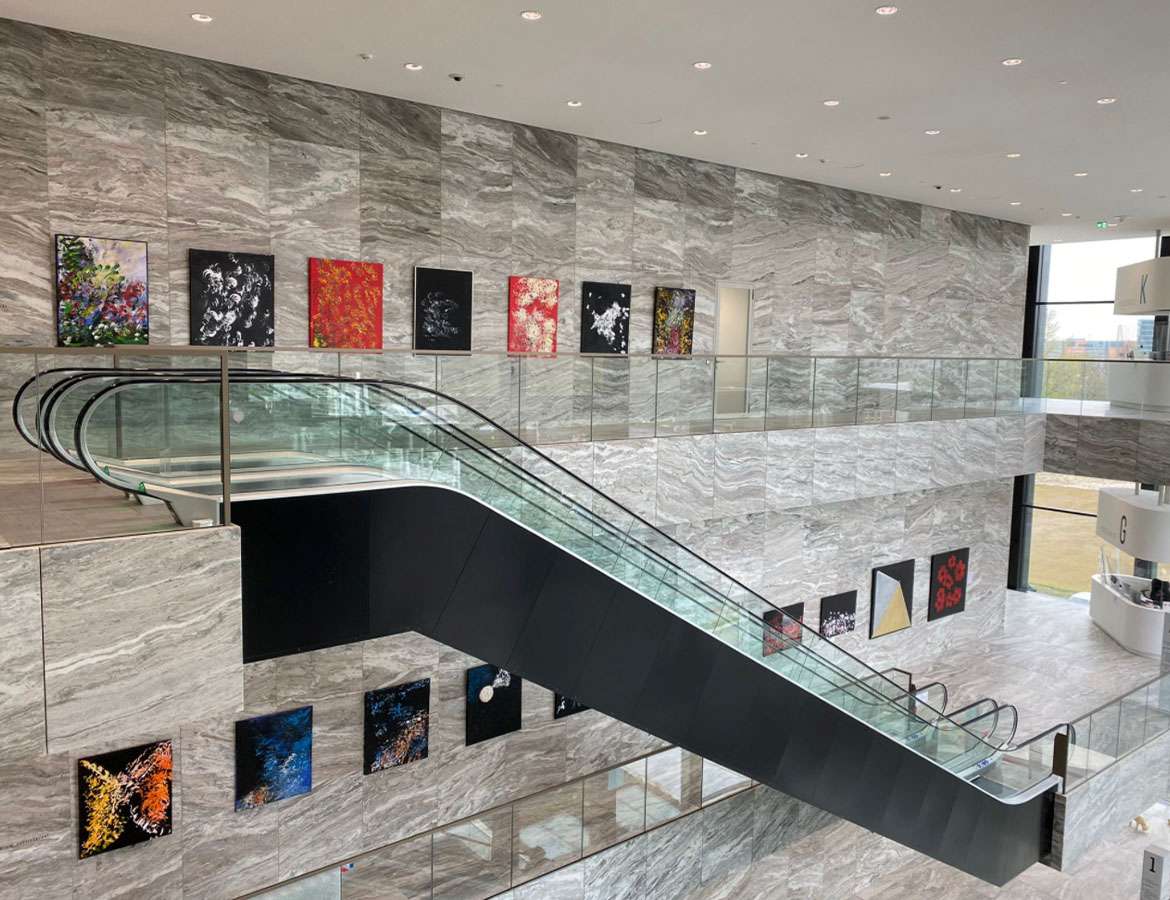 Click on the LATEST EXHIBITION tab to close this section. 
THE BUILDING
Rechtbank Amsterdam | Amsterdam Courthouse
From KAAN Architechten
Located in the up-and-coming Zuidas district, the new Amsterdam Courthouse exudes approachable authority as a stately yet inviting institution for public discourse.
A vast square in front of the 50-meter-high building offers an unobstructed view to the lower floor dedicated to the public area through large windows. Visitors are welcomed into the ground floor central foyer, equipped with reception desks and a cafeteria.
Rising upward, the courtrooms unfold, surrounded by spacious foyers. The highest floors are connected through a grand circular staircase, giving way to offices and judges' chambers set around green indoor and outdoor courtyards. Meanwhile, the detention cell area for the defendants is located under the building with separate pick-up and drop-off ramps.
The Courthouse is horizontally divided into 3 greater sections to facilitate the separation of its functions and efficient circulation of employees, judges and visitors within its structure. As the public makes its way up from the entrance square, the lawyers and judges trickle down from their chambers at the crown of the building.
Most open and public areas feature large openings on the lower floors, directly connected to the public square, and get progressively smaller and tailored from collective to individual scale as the nature of work becomes more confidential and private.
Building side view schematic and model photo courtesy KAAN Architechten.
Click on the CURRENT EXHIBITION tab to close this section. 
Art Imitating Life or Life Imitating Art?
We're updating the website and will soon repost our video exploration of what some observers see in the contemporary abstract paintings of Laura Meddens when viewed from 'changing perspectives. This is not meant to lead your own interpretations or conclusions, but merely to illustrate the remarkable hidden gems that emerge from Laura's works when viewed from varying points of focus, lighting and perspectives. Let us know at our Facebook page what discoveries you make!

Fleeting Moments
Although these works were captured in fleeting moments in my mind's eye, I invite you to linger over them to discover different shapes and textures that become apparent from different angles and in different light.
While I may have painted and named a work like Extreme Obligations in a vertical portrait format, a friend told me that if you view it in a horizontal landscape position, it could be called Major Tom, after the character in David Bowie's Space Oddity, because of the tiny helmeted figure of a spaceman that can be seen stranded on an asteroid in space.
Similar descriptions from a variety of people on my works lead me to invite you to view them from afar, up-close and from different perspectives.
Some people see in the painting Gender the cross-legged figure of Siddhartha, the birth name of the founder of Buddhism, and the title character in the novel by Herman Hesse.
Vluchtige Momenten
Hoewel deze werken op vluchtige momenten in mijn verbeelding werden vastgelegd, nodig ik je uit er langer bij stil te staan om de verschillende vormen en texturen te ontdekken die vanuit verschillende invalshoeken en in ander licht naar voren komen.
Een werk als Extreme Obligations heb ik in staand portretformaat geschilderd en de titel gegeven, maar een vriend vertelde mij dat als je het in de liggende positie van een landschap bekijkt, het ook wel Major Tom zou kunnen heten, naar het personage in Space Oddity van David Bowie, omdat het een kleine gehelmde figuur van een ruimtevaarder is die op een asteroïde in de ruimte is gestrand.
Ik nodig je uit om mijn werken van veraf, dichtbij en vanuit diverse invalshoeken te bekijken.
Sommigen zien in het schilderij Gender de kleermakerszit van Siddhartha, de geboortenaam van de grondlegger van het boeddhisme, en het titelpersonage in de roman van Herman Hesse.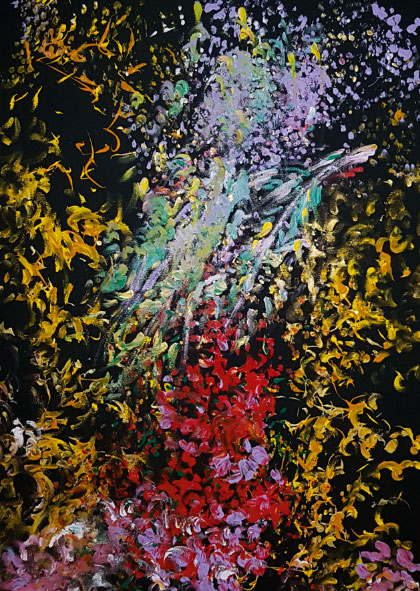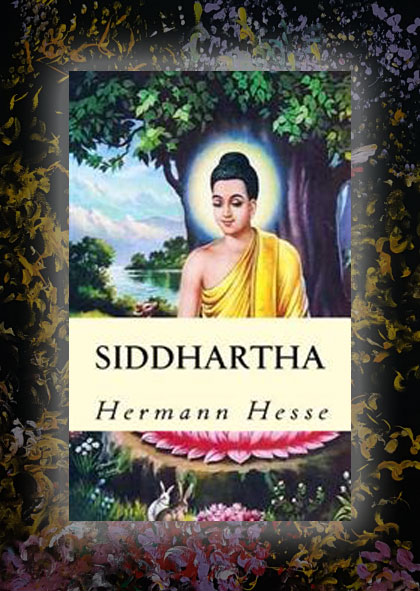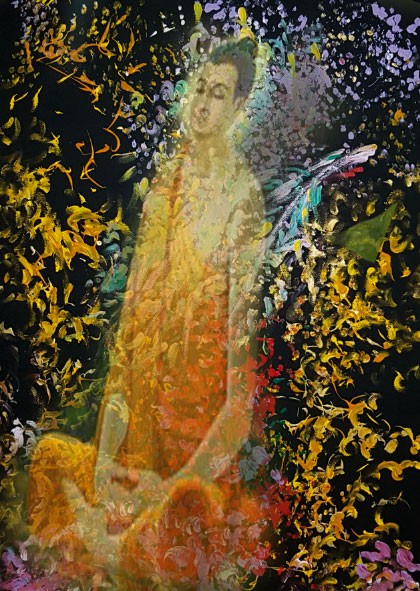 Others see in Amazon Sorrow the sad eye of a tribal chieftain wearing his colorful headdress as he covers his left eye with his hand, perhaps mourning the loss of more Amazon rainforest.
While I can't see the results of my work on these paintings, I can tell you what I saw in my mind's eye as these incredible visualizations unfolded. But that will be for when I meet you at an exhibition or in a publication, or TV program.
In the meantime, please view them with an open mind and without any expectations, and see what interpretations unfold in your mind's eye.
I hope you enjoy them.
Laura
Anderen zien in Amazon Sorrow het droevige oog van een stamhoofd dat zijn kleurrijke hoofdtooi draagt, wellicht treurend om het verlies van nog meer regenwoud in het Amazonegebied.
Hoewel ik de resultaten van mijn werk aan deze schilderijen niet kan zien, kan ik je wel vertellen wat ik in mijn gedachten zag toen deze ongelooflijke visualisaties zich ontvouwden. Maar dat bewaar ik voor als ik je op een tentoonstelling ontmoet of voor een andere publicatie.
Bekijk ze ondertussen met een open blik en zonder verwachtingen, en zie welke interpretaties zich in jouw verbeelding ontvouwen.
Ik hoop dat je ze leuk vindt.
Laura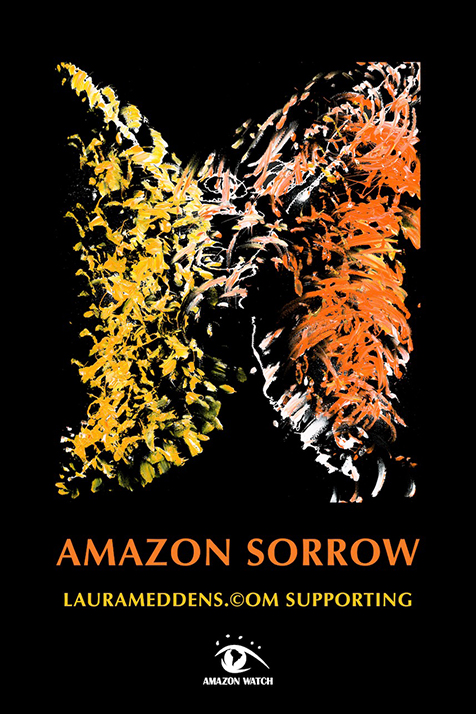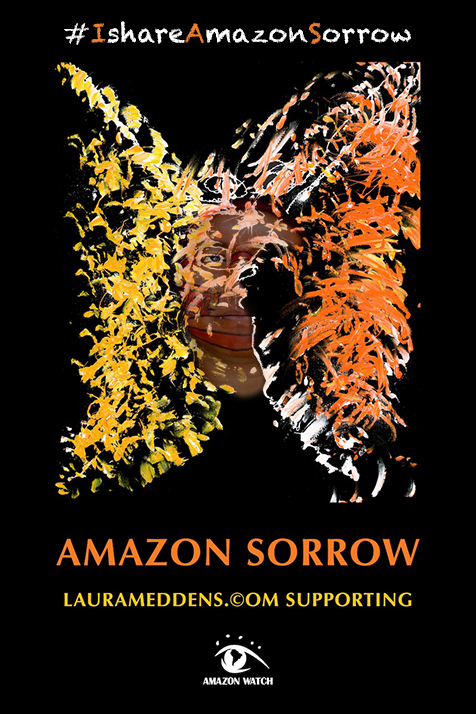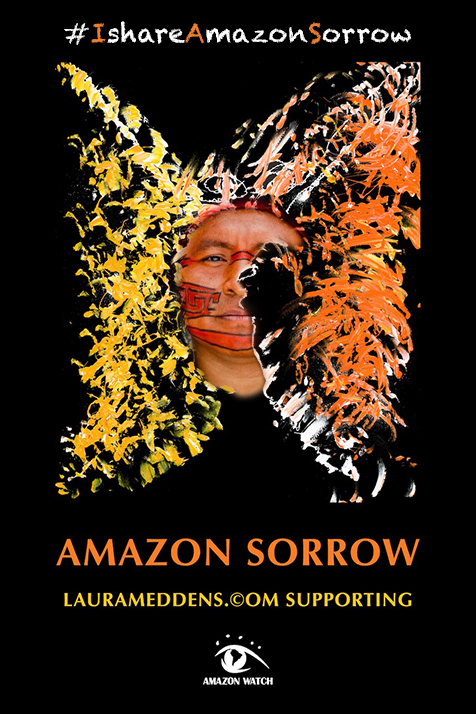 "I cannot see what I'm painting but do know what I want to express."
"Ik kan niet zien wat ik schilder maar weet wel wat ik wil uitdrukken."
Laura Meddens